Can Christian viewpoints on public matters be effectively conveyed to, and understood by, non-Christian audiences?
I'm a lay Canadian Christian – an ordinary person with a "secular" job. I'm not a pastor, and don't have advanced studies in theology or the like. But like many other Christians, I constantly ask myself the question above. In fact, I also know many non-believers who are at least intellectually curious about Christians' viewpoints on contemporary issues. However, they seldom find articulations of those viewpoints that can be parsed without a Christian background.
Enter this site. I comment on relevant news and trends, and the way I think main Protestant Christian worldviews apply to them, from my layperson perspective. My goal is to start honest, constructive, intellectually stimulating conversations, in our "small public squares": neighbourhoods, friends and family circles, communities. Conversations where we can discuss the relevance of the Christian worldview to today's issues, in terms everyone can understand. The main idea is not to convince, but to define and explain, so that conversations can happen.
I publish new podcast episodes every week or two. Each episode's transcript is published as an article. Occassionally I post other articles between podcast episodes. I try to keep individual podcast episodes to 20 minutes or less.
Testimonials
"Just finished listening to the first episode! Very substantive and highly relevant." –Joe
"Great podcast – loved that first episode! The way you set the foundation for what's to come is genius. I also loved the way you build and deconstruct arguments. Keep it up!" –Carl
Host Bio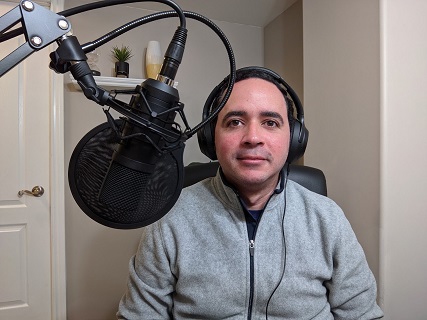 I'm your host, Ramon Jimenez. I'm Dominican by birth, Canadian by choice, and Christian by grace – for all of which I'm very grateful. I'm a software professional, and also have over 17 years of experience as a former teacher assistant, adjunct professor and continuing education instructor. I leverage these skills to analyze complex topics and produce simple and digestible definitions and explanations for Laity Square. Raised Catholic, I've been a Protestant Christian for over 15 years now. I've been married to my wife for fourteen years. We have a daughter, and we live outside Toronto. We are members of Church on the Queensway. In my free time, I enjoy reading, cooking, and walking.
Disclaimer
This is a personal site, and the opinions I express here do not represent those of my church or any other organization I'm related to. The information I provide is on an as-is basis. I make no representations as to accuracy, completeness, currentness, suitability, or validity of any information on the site, and will not be liable for any errors, omissions, or delays in this information, or any losses, injuries or damages arising from its use.